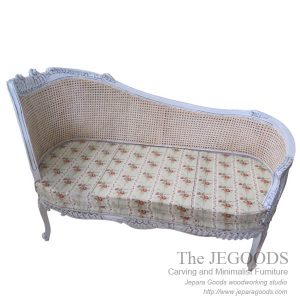 Sofa Love Seat Rustic Shabby with Rattan
This is our lovely sofa bench in shabby chic rustic style. Beautifully hand carved and combined with rattan. made of solid mahogany wood. A simple perfection for your living room.
the Jegoods Woodworking Studio offer the another way to brighten up furniture for your room. We hope you love this stunning look!
Product Description

| Code | Type | Name | Size | Material | Finishing |
| --- | --- | --- | --- | --- | --- |
| JG-ACP-SFB-002 | Sofa Bench | Marie Love Seat Shabby | 130x62x81 | Mahogany | Painted Shabby White |
Our products can be changed or modified to meet your personal requirement, including size, shape or finishing colors. Please state how you would like it customized during the submission process and we will do our best to fulfill your need. Sofa Love Seat Rustic Shabby Creative Color Furniture painted furniture shabby vintage Jepara Indonesia rustic shabby creative color furniture indonesia export wholesale
Similar furniture you may also like;