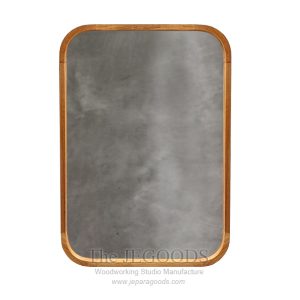 Teak Modern Rectangle Mirror for Wall Decoration and Bathroom
Minimalist, modern and stylish!. The rectangle mirror looks very perfect in the bathroom and will be the beauty of the whole house. We use high-quality teak wood, durable and will last for many years. It is a perfect idea to give a mirror to your wall decoration and also serves as a gift for a new home. Teak wood rectangle mirror is always beautiful.
Product Description

| Code | Price | Name | Size | Material | Finishing |
| --- | --- | --- | --- | --- | --- |
| JG-MIR-00X2 | – | Teak Rectangle Mirror | 40×60 | Teak wood + mirror | Natural teak |
The Teak Mirror is carefully hand crafted with traditional construction method by our skilled furniture craftsman in Jepara, Central Java – Indonesia. Teak finishing color can be made upon request. Please don't hesitate to contact us and we will do our best to fulfill your need.